The heart-warming story of one boy's determination to make his dream come true.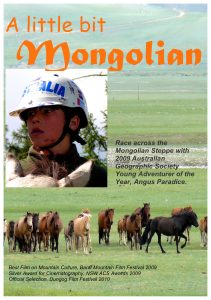 A pack of children gallop at full tilt across the northern Mongolian steppe. In the thick of the action is a lone foreigner. His name is Angus Paradice, he's 12 years old and he's from Australia.
A year earlier Angus went to Mongolia on a family vacation. He watched with envy as local children galloped across the wild empty grasslands. Back home in Australia, he started training, riding 25kms home from school each day. And now he is back in Mongolia to find a trainer willing to take him on. He must learn new skills. But more importantly, he must find the courage within himself to become the first foreign boy ever to compete in the big Nadaam Festival horse races.
Race across the Mongolian steppe with 2009 Australian Geographic Young Adventurer of the Year, Angus Paradice.
Awards for A Little Bit Mongolian
BestFilm on Mountain Culture, Banff Mountain Film Festival, Canada 2009
Silver Award for Cinematography,  Australian Cinematographers Society, NSW Awards 2009
Best Film on Nature and Culture, Poprad International Film Festival, Slovakia
Silver Award,  Kathmandu Mountain Film Festival, Nepal 2010
Official Selection: Dungog Film Festival, Australia 2010 (with additional screening by demand)
Official Selection: New Zealand Mountain Film Festival 2010
Official Selection Pacific Rim Film Festival 2010
Official Selection Annecy Mountain Film Festival, France 2010
Official Selection Byron Bay International Film Festival, Australia 2011
Written, filmed & directed by Michael Dillon. Edited by I.James Wilson. Original music by Paul Jarman & Peter Kennard, Featuring singers from Gondwana Choir & throat singer Baatarsukh Batsukh. Length 55 mins