He'd lost his wife. Was he about to lose his life, or would he find himself again? Get to know the "real" Ed Hillary. A life-changing journey along India's holiest river. 
World Premier, 17thOctober 2019 in Auckland, Hillary's home town, hosted by the Himalayan Trust, the charity Hillary started.   Preview Screenings will also be held by The Himalayan Trust and The Sir Graeme Dingle Foundation.
Cinema Release:  New Zealand – 31st October 2019, Australia – early 2020
Ocean to Sky Celebrated on a Stamp!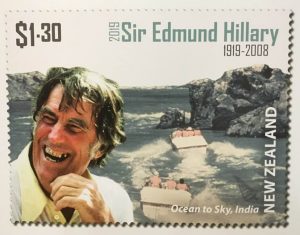 One of five stamps issued on the 20th of July 2019 by NZ Post to commemorate the Centenary of Hillary's birth celebrates the 1977 Ocean to Sky Expedition.
Sir Edmund Hillary's journey from the Ocean to the Sky along the India's River Ganges was his last major expedition and the only one to be comprehensively filmed.
For the people of India, it was a pilgrimage led by a hero of almost god-like status and millions lined the river to watch him pass in his 'miraculous' jet boats.
For Ed and his 22-year-old son, Peter, it was a healing journey too, as they came to terms with the recent loss of Ed's beloved wife, Louise and daughter Belinda.
For Ed's team of friends it was a thrilling ride through the heart of India aboard three of New Zealand's iconic Hamilton Jet Boats. Driven by the son and grandson of the inventor, and Hillary's friend and Hindu scholar, Dr Jim Wilson, they navigated the Ganges' tiger infested delta, crossed its vast, fertile flood plains, struggled up gorges guarded by fearsome rapids towards it sacred origins among the peaks of the Himalaya.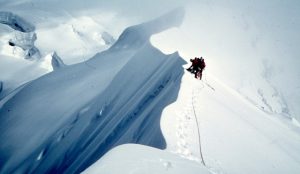 Then, near the Ganges' snowy source the unthinkable happened. The first man to climb the world's highest mountain succumbed to servere altitude sickness. The story of the desperate race by his friends and son to save his life has never been told.
Yet, to Hillary Ocean to Sky always remained "the best journey of them all."
Directed, filmed and produced by Michael Dillon.
Music by Paul Jarman. Edited by Mike Balson.
The Story Behind the Movie
Exhibitor Enquiries and Downloads
Exhibitor enquiries in New Zealand and Australia to Rialto Distribution.
All other enquiries to Michael Dillon Films  
Download Press Kit here
Download Flyer here