Michael Dillon AM ACS FRGS
Documentary Filmmaker, Adventurer, Cinematographer
Michael Dillon AM is one of Australia's leading cinematographers and makers of adventure and expedition documentaries, having won more awards in this field than any other individual worldwide.
Michael's documentary Everest Sea to Summit is the most internationally awarded adventure documentary of all time winning nine grand prizes at international mountain and exploration film festivals. He has made seven adventure documentaries with Sir Edmund Hillary including Beyond Everest, about Sir Edmund Hillary's ongoing work with the Sherpa people of Everest, which won five international awards.
Other expeditions and adventures he has filmed include the first Australian ascent of Everest in 1984, and another Everest Climb in 2006, two Everest ballooning expeditions, a base jumping expedition in the Karakoram, four Antarctic expeditions, two English Channel swims, expeditions in Siberia, Irian Jaya, Africa and the Andes, and a journey by London taxi from Buckingham Palace to the Sydney Opera House.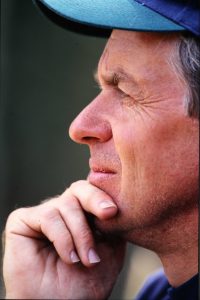 He has received international awards in the diverse fields of Natural History, Adventure and General Documentary cinematography as well as for Direction, Production and Scriptwriting. 
He was a founding Director of the Australian Himalayan Foundation and is a Fellow of the Royal Geographic Society, was awarded the inaugural Australian Geographic Silver Medallion for Excellence in 1986 and was the first Australian to win the Duke of Edinburgh's Gold Award.
In 2004 Michael became a Member in the General Division of the Order of Australia for service to the Australian Film Industry as a pioneer in adventure and mountain film cinematography, and to the community through support for international humanitarian work.
Read more about Michael's filmmaking, TV documentaries and life of adventure.
Contact: mcdillonfilms@gmail.com