Ocean to Sky 2019
Incorporating re-mastered original footage, much of it previously unseen, and recent interviews with the Ocean to Sky team, this new documentary touches on many aspects of Hillary's life and character. It is an opportunity to get to know the 'real Ed' as his friends relive the highs and lows of this epic three-month journey.
The team's recollections cover the full gamut of emotions from humour to despair and include for the first time, the full story of Hillary's brush with death high on a Himalayan peak, and how team members and Indian Armed Forces struggled together to save his life.
Not only is it a historical reminder of one of the major adventures of the 20th Century, but it will also evoke in every viewer a very deep and moving bond with one of the world's greatest adventurers and philanthropists, Sir Edmund Hillary, in this, the Hillary Centenary Year.
Michael Dillon AM FRGS ACS : Producer and Director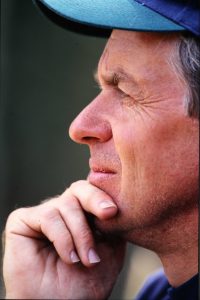 Michael Dillon was an aspiring 32 year old adventure filmmaker when he wrote to Hillary applying for the jobs of Cinematographer and Film Director on the 1977 Ocean to Sky Expedition.
"Quiet and diffident at first sight but with a surprisingly strong streak of determination showing through as one came to know him better. He had his own camera (and when asked) how much pay did he expect? He seemed almost surprised. 'I wouldn't expect any pay on the expedition. This is going to be a very successful film. All I'd want would be a share of the returns. He worked in the interests of the film with monastic devotion and could be distracted by an offering of Indian sweets but by little else. Even though Mike had never climbed a peak in his life, he kept up with the rest in the mountains.
Pete and Ding still speak in hushed tones of watching Mike swaying down a steep ice wall, carrying a hundred pounds of camera equipment during the descent from High Camp, and wearing front claw crampons for the first time." (From Edmund Hillary's 'From the Ocean to Sky')
Michael is a pioneering adventure cinematographer whose many award-winning films encompass the world's most spectacular destinations from the Himalayas to the Andes, Antarctica, the Arctic, the Pacific and Africa. In 1984 Michael filmed Australia's first ascent of Everest, unsupported, without bottled oxygen and via White Limbo, an avalanche prone and unrepeated North Face route. A couple of years later, he conceived the idea and filmed Tim Macartney-Snape's full ascent of Everest from sea level. The resulting film, Everest: Sea to Summit became the most internationally awarded adventure documentary ever.
Ocean to Sky 2019 is Michael's seventh Hillary film. "He was a humble man, with a great sense of humour. My own father died not long before the expedition and Ed became like a father figure to me. To have spent over two years in his company, on expeditions and while he was actively building schools for the Sherpas, has been the greatest privilege of my life," says Michael.
An intrepid adventurer himself, Michael was the first Australian to receive the Duke of Edinburgh's Gold Award, was awarded the inaugural Australian Geographic Spirit of Adventure Award in 1987 and is a fellow of the Royal Geographic Society. Inspired by Hillary's work among the Sherpas, he became a founding director of the Australian Himalayan Foundation and volunteer filmmaker for the Himalayan trust NZ. He was made a Member of the Order of Australia in 2004 in recognition of his contribution to the film industry and his humanitarian work.
Hear Michael discuss the original 1977 Ocean to Sky Expedition and other Hillary adventure on ABC Conversations.
Michael Balson : Editor
Michael is one of Australia's most experienced and awarded documentary makers, with dozens of international documentaries to his credit. He has produced, directed, edited, shot and written Natural History, Adventure, Cultural and Environmental Documentaries for Australian and International Broadcasters, including many for The Discovery Channel and National Geographic.
Michael Balson has won Australian Film Institute Awards and American Cinema Editors Awards for Directing, Editing and Soundtrack. He works through his production company, Entity Productions.
Paul Jarman : Music
Paul is an Australian multi-instrumentalist, composer and choirmaster. He is
known for his work with school children, assisting them to develop their compositions. He has written and performed film scores for two of Michael Dillon's previous productions – A Little Bit Mongolian and Everest: The Boy Who Dared.
Paul Jarman joined the Australian world music group, Sirocco in 1996. He works with other composers and choir leaders and promotes the inclusion of traditional music forms. His compositions for choir and orchestra have been performed around the world in venues such as the White House, the opening of the Rugby World Cup and the London Olympics. Paul has performed for audiences in over 35 countries.
Featured Musicians and Instruments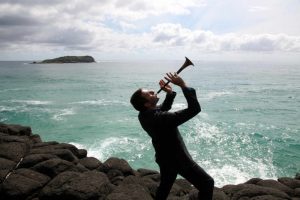 Vocal soprano & violin solos by Amber Jarman
Paul Jarman playing the pungi (India), suling (Malaysia), saxillo (Australia), bawu (China), zurna (Turkey), sarunai (West Sumatra), djembe (West Africa), cajon (Peru), dan moi (Vietnam), Irish whistles, bass guitar, percussion, samples & grand piano
Stewart Peters playing the Dobro bottleneck guitar, acoustic and electric guitars, cifteli (Macedonia), bass guitar, mandolin, drums & percussion
Guy Strazz playing the Katoh flamenco guitar, Sonea 8-string East-West by Martine Montassier, double neck East-West by Jim Williams, Octabina 12-string alto, Godin Session Custom electric & Dobro bottleneck guitar
Additional vocals by Macushla & Sureyya Brennan, Hannah Gallagher, Olivia Gruber Styles, Amber & Ruby Jarman, Chia & Lulu McGrath and Saskia Scheib from Valla Voices Children's Choir.
Featured traditional music: Hine e Hine (Maori) Traditional & Boat-Man's Song (Bengal).
Contact: mcdillonfilms@gmail.com