The 1977 Ocean to Sky Expedition
In 1953, two New Zealand pioneers did things that were to leave their mark on the world forever. Mountaineering legend Sir Edmund Hillary (with Tenzing Norgay) was the first to summit Mount Everest. And that same year, engineer Bill Hamilton invented the jet boat, a propeller-less craft that blasts up rapids using water propulsion – a boat that could go where no boat went before. Neither man could have guessed that 24 years later Sir Edmund and his son Peter would join Bill Hamilton's son Jon and grandson Mike on a fateful expedition that almost ended in tragedy.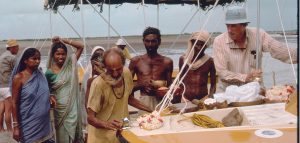 So, in 1977 Hillary, climber of the Himalaya's highest mountain took three Hamilton jet boats in a bid to become the first to climb India's greatest and most sacred river – The Ganges. It would also be Hillary's last major expedition and the most significant New Zealand led expedition in history.
The plan was to follow the Ganges from Ganga Sagar, where the river meets the sea, to the summit of one of the Himalayan peaks at its source. For Indians, this journey resonated strongly. It was a pilgrimage led by a hero of almost god-like status and millions lined the riverbanks to see him and his 'miraculous' boats.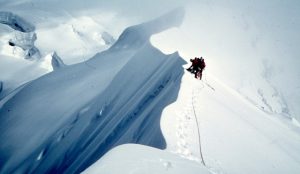 Weeks later their hero would collapse with high altitude mountain sickness and be rushed down the mountain by his friends, his life hanging in the balance. Yet, despite the fact that it nearly cost him his life, Hillary always said that it was his most memorable expedition and the best journey of them all.