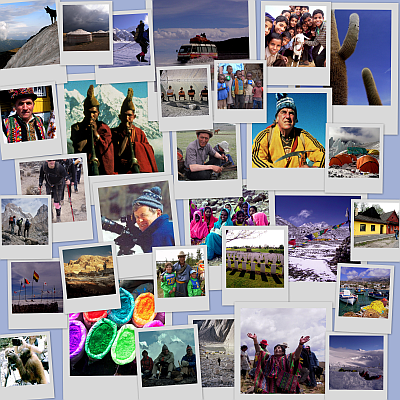 For Stock Footage and Stills
Email your requirements to
Climbing & Mountain Adventure
Michael has filmed and summited four of the Seven Summits – Mt Elbrus, Mt Aconcagua, Mt Kilmanjaro, Mt Kosciusko, was turned back by bad weather at the top camp on Mt McKinley and reached 7500m on Mount Everest.
Expeditions & Journeys
Tim Cope's journey from Mongolia to Hungary on horseback.
Angus Paradice, the first western child to ride in the Mongolian Naadam Festival children's horse races.
Sir Edmund Hillary's Ganges Jetboat Expedition and other Hillary expeditions in Nepal, India and Fiji.
Joe Hockey's climb of Mt Kilimanjaro in 2009
The Great Taxi Adventure (London to Sydney), Journeys across Ethiopia and the Sudan, Base Jumping in the Karakoram, Everest Ballooning Expeditions …
Indigenous Peoples and Remote Locations
Michael has filmed some of the worlds remotest locations - Antartica, The Arctic, Everest, The High Andes, Tahiti, Fiji, Madagascar, Sri Lanka , Kilimanjaro, Tibet, Ladakh, The Islands of Oceania, the Australian Outback, Cuba, ChileIrian Jaya's remote ice cap, Zanzibar, Mongolia, Senegal, Timor, Slovakia, Bolivia, Tanzania. He has also amassed an extensive archive of stock footage relating to World War One Battle sites in France and Turkey.
Wildlife
With extensive trips to Antarctica, Africa and other wildlife 'hotspots', Michael has filmed Madagascan Lemurs, Sri Lankan Elephants, Coconut Monkeys , Komodo Dragons, Emperor Penguins, Orangutans, African Rhinos, Japanese Snow Monkeys, Humpback Whales Alaskan Brown Bears, Tasmanian Devils,Mahogany Gliders (with David Attenborough),Tree Kangaroos, Rattlesnakes, Polar Bears